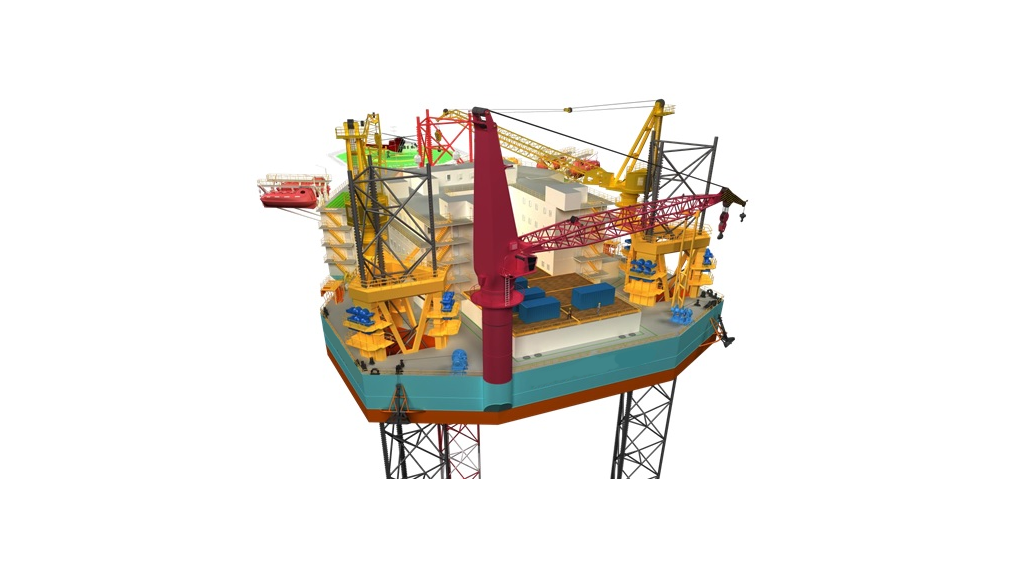 Jack Up Barge For Sale File-0183
Jack Up Barge For Sale File-0183
Jack Up Barge For Sale File-0183
Class
Notation
ABS: ✠1A1 Self Elevating
Unit,
ACCOMMODATION,
CRANE, HELIDK
DNV:
(Optional)
+1A
SELF-ELEVATING ACCOMMODATION UNIT, CRANE, HELDK, COMF-V(3)
Design temperature
For steel: -10°C
For HVAC: -10 °C ~ 36 °C
Seawater temperature: 0 °C ~ 32 °C
Hull
Length of Hull 62.00 m
Breadth of Hull 65.30 m
Depth of hull (at sides) 8.00 m
Depth of hull (at centerline) 7.80 m
Design Draft 4.50 m
Footings
Number 3
Footing Area 150 m2
Legs
Leg Type triangular open truss, X-braced
Leg Numer 3
Leg Length 153.4 m
Aft leg centers 46.00 m
Jacking Systems
Number 3 x 18 pinions
Effective jacking 215 t per pinion
Pre-load jacking 296 t per pinion
Jacking Speed 0.45 m/min
Fixation Systems
Number 18 x 5-teeth counter racks
Design MSC
Type 5000
Storage Capacities
Potable water 585 m3
Fuel Oil 600 m3
Pre-load/Ballast Water 11,700 m3
Sewage Holding 145 m3
Laydown area abt 1000 m2
Variable load 2,000 t
Accommodation
70 single cabins and 104 double men cabins
Full air-conditioned facilities for 400 persons
Galley + cold, cool and dry store
Mess room. Laundry
Large recreation rooms, game room, library
Gym room, sauna,
Coffee shop (smoking and non-smoking)
Hospital
A fully equipped hospital is
located on the D deck level with easy access to open deck area and helideck.
Offices
Client offices and large meeting
room are arranged in deckhouse, fully equipped with communication facilities.
Life-saving
Lifeboat capacity: 4 x 92+2×60
person lifeboats
Life rafts: 11x 25 person
Fast Rescue Craft: One (1)
Helideck
Helicopter type EC225 /S92/S61N
(AW101 in emergency)
Dimension 22.2 x 22.2 m
Cranes
Main hoist 300 mt (maximum
lifting capacity) at 16 m
radius, 160 mt @ 22 m, maximum radius 48 m. 
Two (2) diesel-hydraulic driven
auxiliary cranes:
Main hoist: 50 mt (maximum
lifting capacity) at 9.2 m
radius, 15 mt @ 38m radius, maximum radius 42 m. 
All cranes certified to API 2C
with man-riding purpose.
Power Plant
Main Engines:
Three (3) sets 1918 KW diesel
engine generators
Emergency Generator:
One (1) 500
KW emergency diesel engine generator.
Survival
conditions
water depth

91,4 m

106.7 m

airgap

30.0 m

30.0 m

wave height/ period

18,3 m / 15.6 s

15.24 m / 15 s

surface current

0.51 m/s

0.51 m/s

bottom current

1.0 m/s

1.0 m/s

wind velocity (1 min
sustained)

51.4 m/s

51.4 m/s

leg penetration

2.0 m

2.0 m

seabed fixity

SNAME-RP

SNAME-RP

maximum elevated weight

11,000 t

11,000 t

variable load

2,000 t

2,000 t

longitudinal eccentricity

+0.5 m

+0.5 m

transverse eccentricity

+0.25 m

+0.25 m
Operational
conditions
water depth

91,4 m

106.7 m

airgap

30.0 m

30.0 m

wave height/ period

13.0 m / 12.0 s

10.0 m / 11.0 s

surface current

0.51 m/s

0.51 m/s

bottom current

1.0 m/s

1.0 m/s

wind velocity (1 min
sustained)

35.6 m/s

35.6 m/s

leg penetration

2.0 m

2.0 m

seabed fixity

SNAME-RP

SNAME-RP

maximum elevated weight

12,000 t

12,000 t

variable load

2,000 t

2,000 t

longitudinal eccentricity

+0.5 m

+0.5 m

transverse eccentricity

+0.25 m

+0.25 m
Jack Up Barge For Sale Ref-1211.pdf