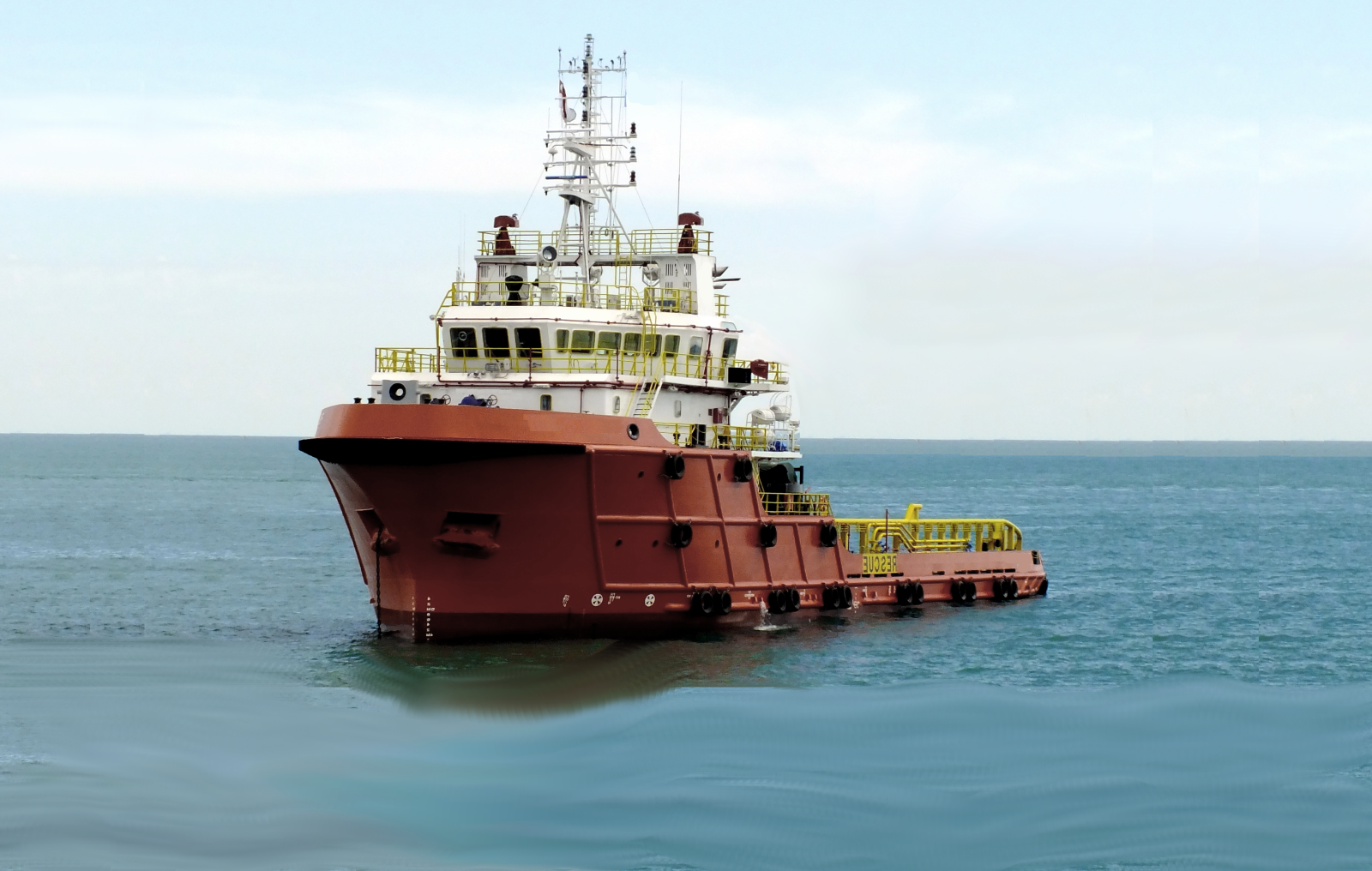 Multi-Purpose Tug For Charter File-0200
Multi-Purpose Tug For Charter File-0200
Multi-Purpose Tug For Charter File-0200
| | |
| --- | --- |
| BUILT | |
| Class | IRS |
| Flag | INDIAN |
| Year Built | 1976 |
| | (Major modification 1992 and |
| Navigation Areas | 2001 with |
| Class Notation | new engines) |
| | Unrestricted |
| Cruising Speed | (International) |
| | Steel/ Supply vessel meeting with |
| | SPS |
| | Code 2004 |
| | for 42 Special persons |
| | 8.0 Knots |
| | |
| | |
| | |
| | |
| DIMENSIONS & CAPACITIES | |
| Length O.A. (M) | 57.91 |
| Beam MLD. (M) | 12.19 |
| Depth MLD (M) |  5.00 |
| Draft max. (M) |  ~3.53 |
| GRT/NRT | 1008/302 |
| DWT | 519.71 |
| Fuel Oil Tank (MT) | ~258.02 |
| Fresh Water Tank (MT) | ~184.00 |
| Deck Space | 255.0M2 |
| Maximum authorized life | 62 persons |
| saving | |
| Capacity (as per SPS Code 2004) | |
| | |
| | |
| MAIN MACHINERY & | |
| PROPULSION UNIT | |
| Maine Engine BHP | 1304KW x 2 @1650rpm |
| Quantity | Two |
| Make | Deutz |
| Year Installed | 2001/2002 |
| Model | TBD-620-V12 |
| Marine Gensets | 2 x 250 KW |
| Quantity | + 1 x 150 KW |
| Make | Three |
| Model | 2 |
| Marine Red. Gearbox | Caterpillar, 1 Detroit |
| Reduction Ratio | 3408 |
| Propeller | 2 Nos Make |
| Oily Water Separator | : ZE MARINE |
| Fuel Type | 01:06.9 |
| Bollard pull at 1000/1200RPM | Fixed |
| Bow Thruster | pitch inward turning screws |
| | YSCZ-0.25DM |
| | Marine |
| | Diesel Oil |
| | 23T/30T |
| | 500 BHP, 1* Detroit 12V71 |
| | |
| | |
| | |
| | |
| | |
| COMMUNICATION& NAV. | |
| EQUIP. | |
| GMDSS | |
| SATCOM | FURUNO |
| SAT-C | FELCOM 12 |
| SSB/MF/HF DSC | FURUNO FS – 1562-25 |
| VHF | FURUNO FM |
| GPS | -8500 |
| AUTO PILOT | GARMIN 152 |
| DSC | SPERRY |
| GYRO | FURUNO DSC |
| RADARS | 60 |
| COMPASS | SPERRY |
| ECHO SOUNDER | SR-130 |
| Satellite telephone and e-mail | FURUNO/KODEN |
| | GILLIE |
| | SESTREL |
| | FURUNO |
| | Fleet |
| | Broadband, Skipper-150 |
| | |
| | |
MAIN MOORING EQUIPMENT & DECK MACHINERY
Mooring
Equipment:
Two Electro Hydraulic Winches each with 1200m x 26mm wire
and 2T Delta flipper anchor at FWD.
Anchor & Anchor Chain:
2 x Electric Anchor Windlass with
900kg Bower anchor system.
Capstans: 2 x 5 T at 12 mtr/min electric
stern capstans
Cargo
Crane: One 8T, Allied, Electro hydraulic Crane with telescopic
boom on port side stern.
Provision
Crane: One National 3T Electro hydraulic Crane with Telescopic
boom on Stbd side amidships
MAIN FIRE FIGHTING & LIFE SAVING EQUIPMENT
Comply with SOLAS and flag country as regards fire-fighting & life-saving
facilities requirement
Engine Room & DG Room – Fixed Fire Fighting system i.e. CO2 system
Portable : Foam, Water & CO2 types at various locations required by SOLAS
Sewage
Treatment Plant:     Aquachem Germany: 24 Persons
EVAC                       : 55
Persons
LSA
Equipments:
Fitted with one number FRC and
other LSA items as per SOLAS.
ACCOMODATION & GALLEY
Special
Persons                                                 42
Ship's Staff                                            20
Total
Authorized Accommodation              62
Freezer
space                                                     8.5
M3
Chiller
Space                                                      8.5
M3
Spacious
Mess Room with sit down capacity        24 Persons
Client's Office                                                  8.15 x 2.46m (20M2)
Recreation
room with TV and DVD                     20
Persons
AIR CONDITIONING SYSTEM :
Split Air-conditioners for wheelhouse, Mess room, Officers/Crew SP Cabins Centralized air condition system with 100% standby arrangement 1 meat/fish room & 1 vegetable room.
Galley: Fitted with Indian type cooking range.
Work
Shop : Specious work shop having lathe, grinding, drilling, welding machine &
                       other shop tools
Fuel
Consumption
At
anchorage: 0.5 KL
(Approximately)                                     At Sea: 5.2 KL
CAPACITES/TRANSFER
RATES
Cargo Fresh Water                                    NIL
Ship's Fresh Water                                   160   MT
Diesel Oil :
250   MT/transfer rate
Hydraulic Oil:
2.76 MT
Lube Oil:
19.2   MT
Ballast:
156    MT